Town Tigers Off to Bumpy Beginning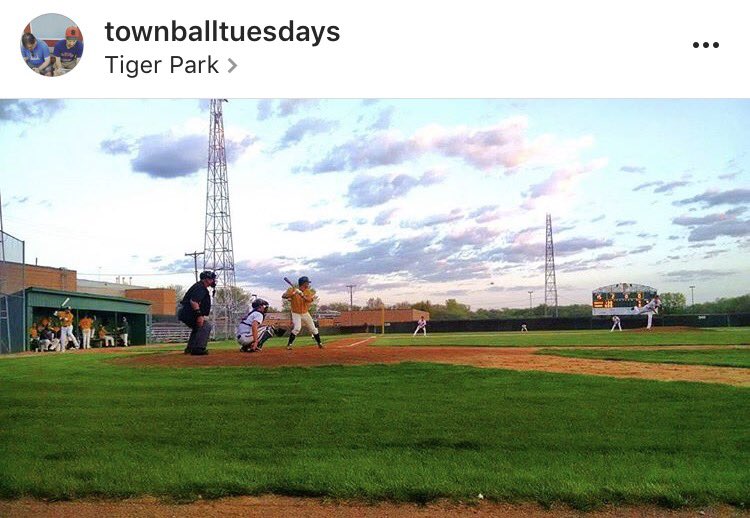 --by Brett Kruschke, Matt Schultz & Mike Schultz
At a fateful hour late Sunday afternoon and just an hour's drive apart, the Minnesota Twins and Town Tigers were busy testing the allegiance of their supporters by both yielding 10 runs in the top of the ninth inning. While the Twins didn't score in their last ups against the Boston Red Sox, Team Tigertown tallied seven runs and almost snatched victory from the jaws of defeat against the Arlington A's. When all was said and done, however, it was a frustrating first weekend.
Belle Plaine got bushwacked on Friday by Green Isle – one of the top Class C teams in the state – in the season opener, 13-0. Sunday's league opener against Arlington saw a one-run lead with three outs to go turn into a never-ending ninth and a 15-13 setback, dropping the Tigers at 0-2 (0-1 RVL) on the year.
On Friday the locals may choose to drown their sorrows at a discounted rate as Jordan comes to town at 7:30 pm on Dollar Beer Night. The Tigers will also be in action Saturday when they visit one of the more quaint ballparks in the state, St. Benedict, at 4 pm.
At the start of each season, I like to clarify this column's byline. Generally the Schultz brothers, Mike and Matt, split up the week's game recaps. I write the sizzling-hot intro and edit their napkin scratch, and then we submit it to the Herald to see what's left standing after a trip to Wednesday's mailbox. It never gets old.
We would also like to take a moment to offer our condolences to the family and friends of long-time Herald photographer/writer/editor Dan Ruud. As his obituary stated and we often witnessed, Dan "had a passion for baseball and photography." Thanks, Dan, for being a friend all these years.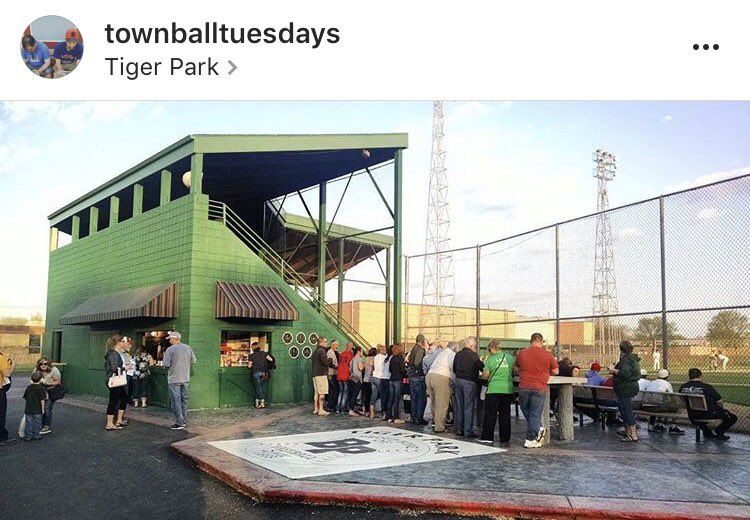 Green Isle 13, BP 0 (7 innings)
The Irish of Green Isle and a nice showing of fans came to town on a picture-perfect Opening Night. In honor of Cinco de Mayo, however, El Tigre swung at the ball like a piñata and finished with just one hit, coming in the first inning off the bat of veteran Pat Schultz.
Mitch Stier started on the mound for Los Tigros and went the first two innings before giving way to Chase Emmers, who recorded five outs. Matt Schultz came on to get the final out of the nine-run fourth, but the damage had already been done.
Pat Schultz threw the next two innings while Jon Vinkemeier hurled the final frame. The Tiger defense was not on the pitchers' side as, despite an offseason of fielding ground balls, the home team committed six errors.
Arlington 15, BP 13
The A's of Arlington came to Tigertown on Sunday in the River Valley League opener for both teams. The final frame, however, turned out to be one of the best examples ever of ugly, early-season town ball
The Tigers trailed 5-1 after five innings but mounted a nice comeback with three runs in the sixth and two in the seventh for a 6-5 lead. With two outs in the seventh Matt Schultz drove in the tying run, with Stier's hit-by-pitch giving the Tigers a one-run lead they'd take to the ninth.
Things went poorly from there, with Arlington putting up a 10-spot thanks to four hits, two walks and a litany errors. El Tigre was not discouraged, though, and mounted a seven-run rally in their last cracks to cut the deficit to two runs, bringing the tying run to the plate before the game ended. The key blow for Belle Plaine was a bases-loaded triple by Emmers.
Josh Terrio started the game and went four-plus innings while giving up five runs (mostly unearned). Terrio was relieved by Vinkemeier, who shut Arlington down until the ill-fated ninth. He was followed by Steir and "Everyday" Matt Schultz, who combined to finally finish off the top of the frame.
Offensively the Tiger Train was conducted by Schultz, who had five hits on the day – all the more impressive considering Zac "Papa" Dahlke is the new chief bookkeeper. Vink, Aiden Ladd and Luke Narveson each had two hits on the afternoon.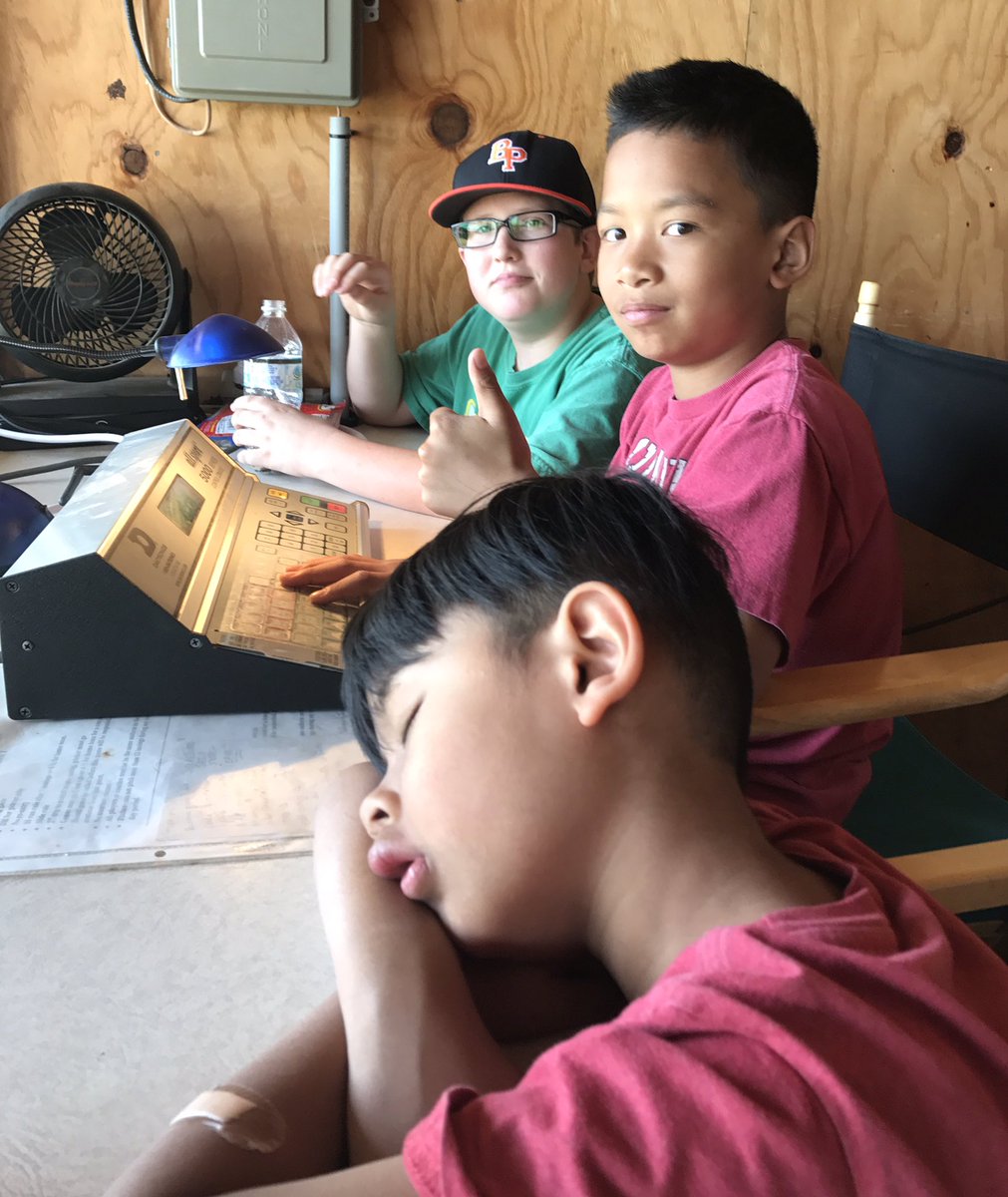 Green Isle Here Friday
as Town Team Season Begins
--by Brett Kruschke
The Belle Plaine Tigers town team will open the 2017 campaign this weekend with a pair of home games. On Friday, the loaded-for-bear Green Isle Irish will visit at 7:30 pm on Dollar Dog Night – that's right, the famous and tasty Ruck's hot dogs are just $1 all night long. (Attention: former Tiger slugger, Jeff Witt)
On Sunday, the first notch will register in the River Valley League standings as the Arlington A's will be here for a 2 pm start. It will be Coborn's Day and as we've annually done, canned goods will be collected for the Belle Plaine Food Shelf. Cash donations will also be accepted, and your donation of either will enter you in a drawing for a Coborn's gift card. Please support this most-worthy local endeavor!
This year's schedule features 26 regular-season games, with 14 coming at home. You can buy a $25 season ticket or a $50 Dugout Club season ticket – which also includes a food and beverage item at each game – at the ticket gate or Brad's Barber Shop. On a per-game basis, the cost is $4 for ages 18-64, $2 for ages 12-17 and 65-plus, and free for ages 11-and-under.
Season and walk-up tickets are a great way to support Tiger Baseball, and the 19th annual Tigertown Classic eight-team invitational tournament on June 9-10-11 will once again be a key fundraiser. A new wrinkle this year that we hope you enjoy is a game program, made possible by the support of a litany of sponsors. The Tiger Open golf tournament, for which we thank many of you for years of support, will no longer be held.
The Tigers have endured some rough sledding the past couple years, as the team has turned over and gotten very young. Last year was just the second season in the past 10 that the Chatfielders didn't qualify for the state tournament. That hasn't hurt enthusiasm in the dugout, however, as manager Mike Schultz has assembled the largest roster short of the Vikings.
Most players – as far as we know – will return, including Travis Latzke, Jonny Vinkemeier, Johnny Egan, Derek Dahlke, Dylan Nyberg, Joe Hankins, Josh Terrio, Ben Wagner, Cameron Lark, Jared Miller, Matt Schultz, Mitchel Stier, Wes Sarsland, Luke Narveson, Ryan Bremseth-Vining, Aiden Ladd, Carsen Ladd, Zac Dahlke, Chase Emmers, Pat Schultz, Matt Ruehling, Mike Schultz, Jesse Oelfke and Joe Pomije.
Derek Dahlke, a 2015 RVL All-Star, will again be spending most of the summer playing for a collegiate wood-bat league team – this year, with the Sioux Falls Gold of the Pioneer Collegiate Baseball League. Derek expects to be around here and there, and hopefully for the playoffs.
In late-breaking news, the Tigers are losing a pair of veteran outfielders to retirement. Travis Latzke, a speedy staple in center field and at the top of the lineup for nine years, is hanging up the cleats, as is Tyler Hartman, who has donned the Tiger threads for seven seasons (but left the door open for emergency appearances). Three new cubs have been added to the litter, all currently donning uniforms for Belle Plaine High School: Brody Curtiss, Nathan Herman andJonathan Schmidt.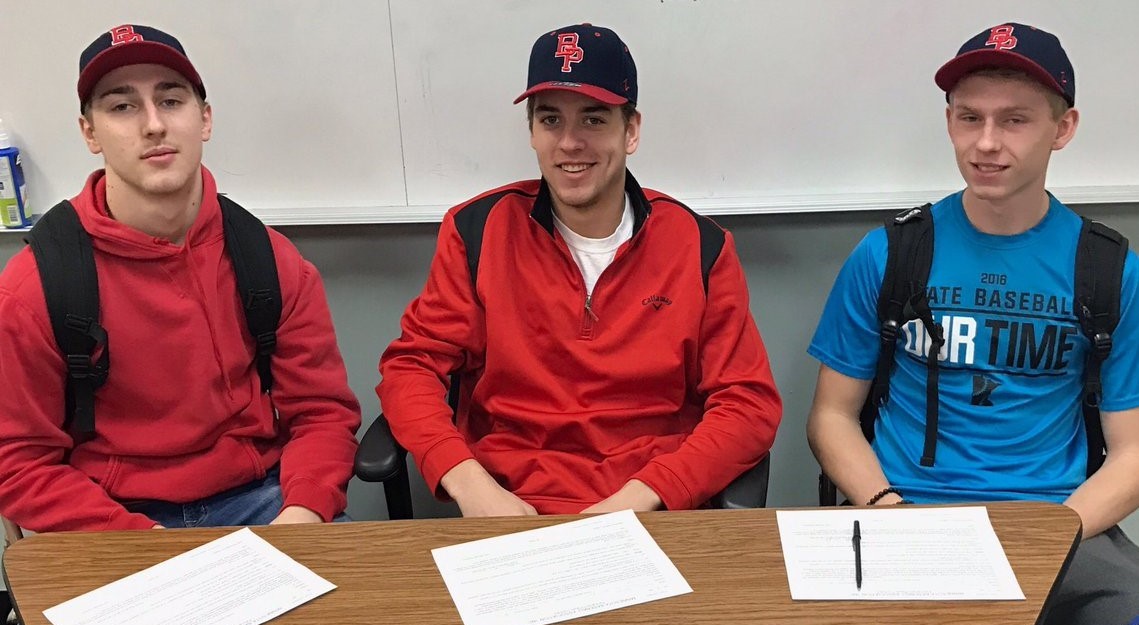 Stay connected to the Tigers via bptigertown.com, and on Facebook and Twitter at bptigertown. Also, be sure to grab a free 2017 Tiger pocket schedule.
See you at the ballpark!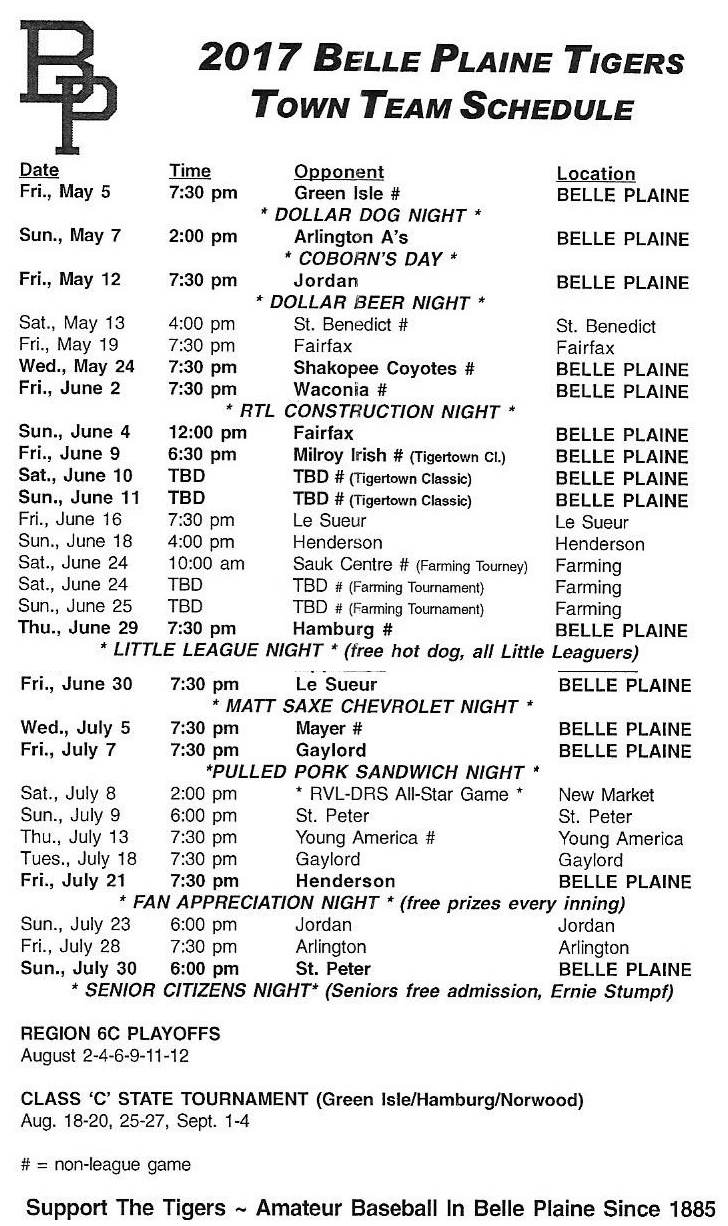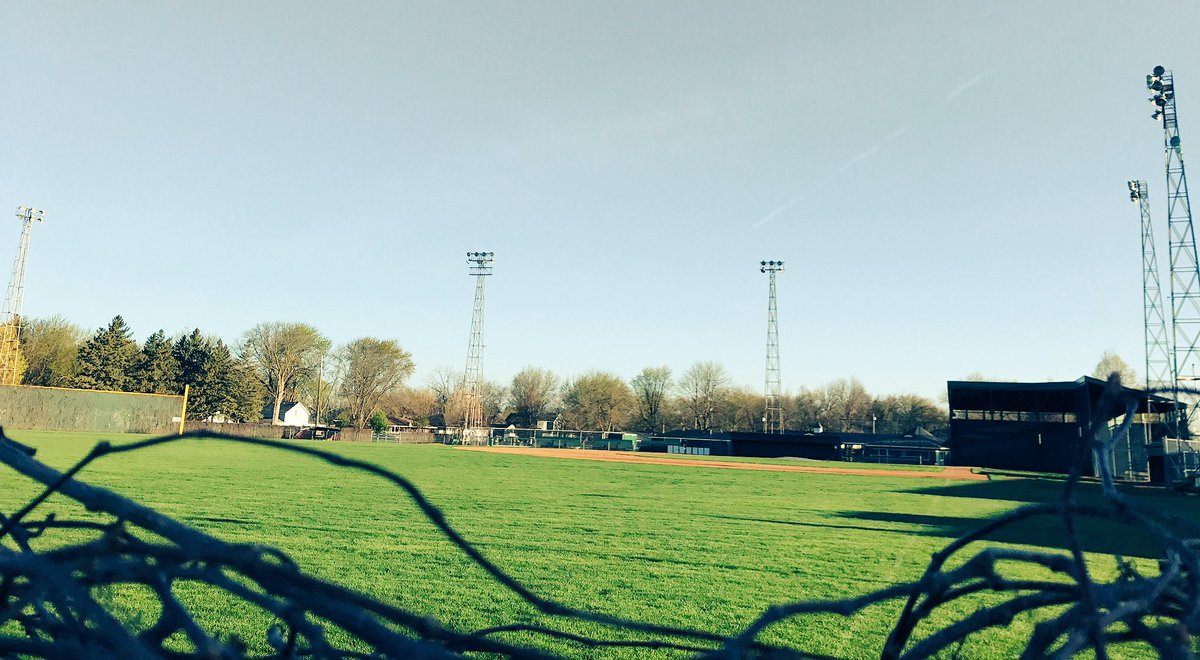 Tiger Park press box named in honor of Brett Kruschke
The press box at the Tiger Park was named after Brett Kruschke.
Tiger Park press box named in honor of Brett Kruschke
The press box at the Tiger Park was named after Brett Kruschke.
Brett Kruschke's name is now literally attached to the press box at Tiger Park.
In a ceremony prior to the St. Patrick's Day Celebrations in Belle Plaine, Kruschke was honored on the field, to declare that the press box at Tiger Park would be referred to as the Brett Kruschke Press Box from that date forward. The inscription with that title was attached to the wall just beneath the baseball press box windows.
Kruschke is currently the Sports Writer at Sportsradar US, and has served the BPBA for decades. Brett played (use word loosely) for TeamTigerTown for 21 years, retiring after the 2015 season. Kru also skippered the club back in the early 2000s. You would recognize the name from the Belle Plaine Herald, where Brett would put his spin on the weekly happenings in Belle Plaine Amateur Baseball. Below is a listing of Kru's accomplishments over the years with TeamTigerTown.

Career Pitching
2008
July 12 - Mankato @ BP :o
July 2 - Cologne 8 @ BP 17
Warmed up in bullpen. Luckily Dave Feldt got the job done.
June 24 - Plato 12 @ BP 2 (7 inn.)
0.2 IP / 1 H / 0 R / 0 ER / 0 BB / 1 K / 15 NP / 0.00 ERA
Threw 9 of 15 pitches for strikes, which was uncharacteristic.(http://www.bptigertown.com/2008SeasonStories.html#June24Box)
2007
---
2006
---
2005
July 14 - BP 0 @ Mankato 21 (7 inn.)
1.0 IP / 1 H / 0 R / 0 ER / 0 BB / 1 K / 16 NP / 0.00 ERA
Brad Connolly got a hit, and Shane - managing that year - putting himself at SS midway through the game although he had just missed time pitching with a bad arm. (http://www.bptigertown.com/2005SeasonStories.htm)
2004
---
2003
---
2002
---
2001
June 1 - BP 2 @ Delano 17 (7 inn.)
1.0 IP / 2 H / 2 R / 2 ER / 1 BB / 1 K / 18 NP / 18.00 ERA
Catcher Pat Schultz called for a curveball even though Kruschke doesn't throw one, and it went over the fence for a grand slam.
(http://www.bptigertown.com/schedule_Archive.htm#2001)
2000
---
1999
1 G vs. ? / 0.2 IP / 1 H / 6 R / 0 ER / 4 BB / 0 K / ? NP / 0.00 ERA
Just read the line. This was a Rick Ankiel meltdown before there was Rick Ankiel.
(http://www.bptigertown.com/Stats.htm#1999)
1998
Pitching stats not currently available.
1997
August 9 (Section 3B Playoffs) - Chaska 4 @ BP 5
Why Mgr. "Hot Dog" Miller gave Kruschke the ball that day is anyone's guess... but it worked.
1991-1996 (& other general highlights)
* 1991 State Tournament - warmed up in bullpen even though never told to.
* Beat Hampton for first town team win, on June 12, 1992. Not that it was rare but Kruschke still issues yearly reminders of this happening.
* General memories of being constantly encouraged by teammates to "just throw strikes."
* Kruschke keeps fresh in-between sporadic bi-yearly appearances by regularly throwing batting practice, with the goal of getting the hitter out - not throw him some lollipop pitch so he can get his timing down for the game.