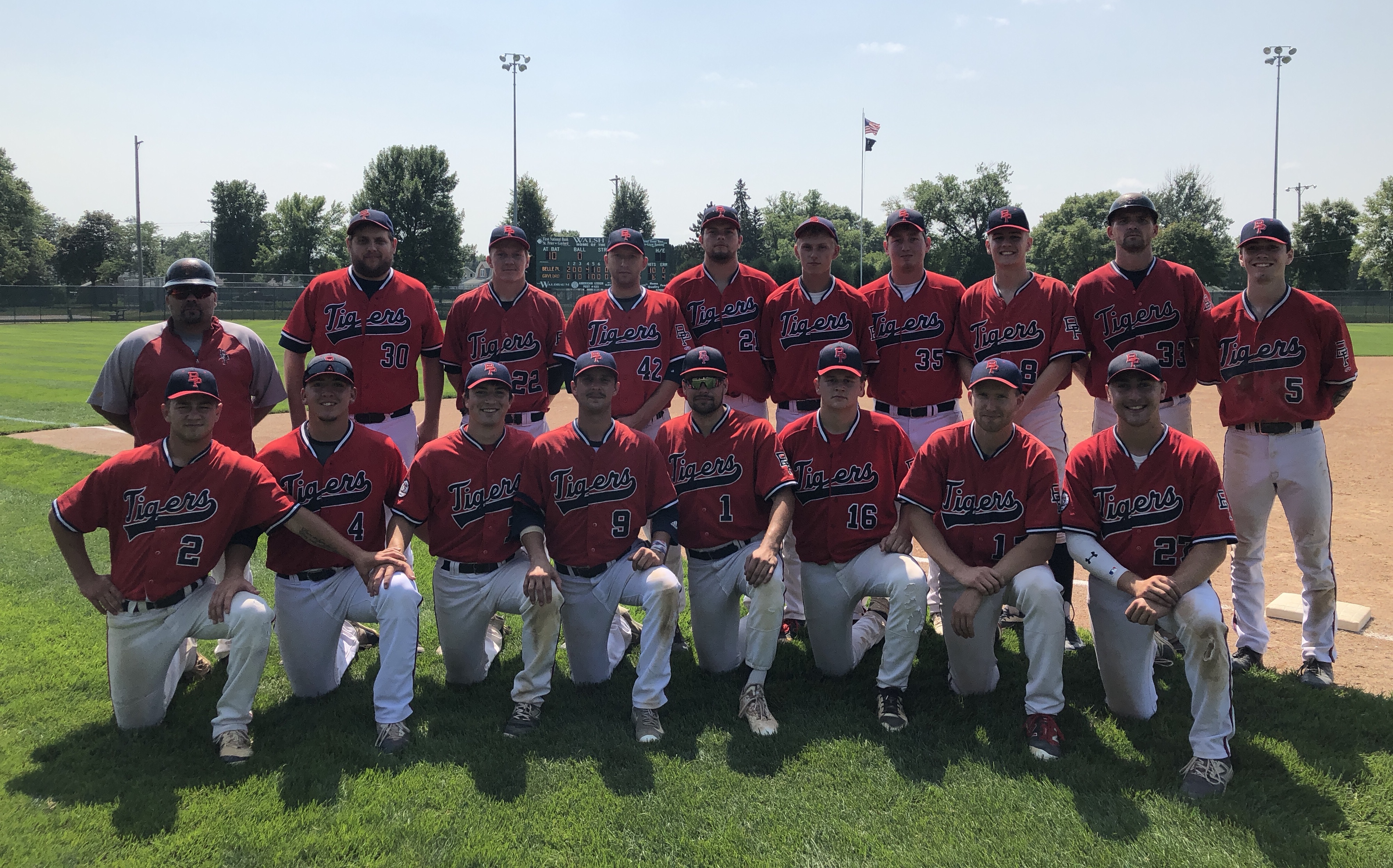 --by Brett Kruschke
Despite the size of Region 6C doubling since last season – from eight to 16 teams – and without a home game among their five region contests, the Belle Plaine Tigers town team is headed back to the state tournament for the first time since 2015.
After winning a pair of games Aug. 4-5 against Cleveland and Blue Earth to open region play, the Tigers missed their first opportunity to clinch a state tournament berth on Friday night when the Jordan Brewers once again prevailed, this time by a 9-0 count. That meant El Tigre could only make the state tournament by winning its next two outings, but that's just what they did: 3-2 over Le Sueur in Waterville on Saturday night and 7-4 at high noon on Sunday in Gaylord.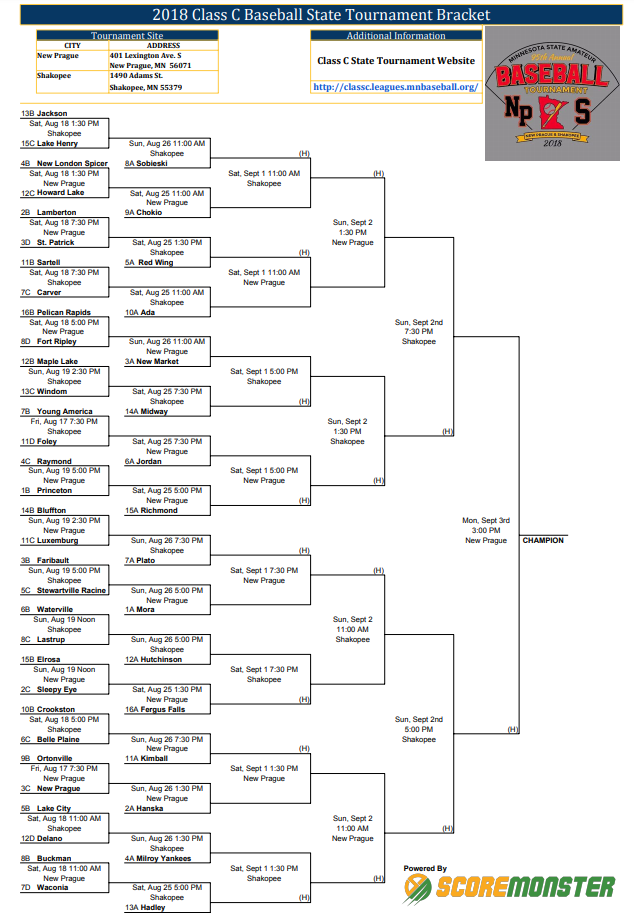 Jordan beat Waterville on Sunday, 6-3, capturing the Region 6C championship and the region's No. 1 seed for the state tournament. Afterwards, Belle Plaine added the following draftee pitchers: Jesse Anderson and Andy Regner of St. Peter, along with Tanner Wenninger of Gaylord. Welcome to Tigertown!
The Brewers will receive a first-round bye at the state tournament and are off until next weekend. Waterville is the No. 2 seed and Belle Plaine, the region's final bid and third seed.
The Tigers will carry a 21-8 record into Saturday's 5 pm first-round matchup at Shakopee's Joe Schleper Stadium, against the Crookston Reds of the Red River League. If you can't attend, tune in the game on KCHK Radio (95.5 FM | 1350 AM) or via their smartphone app. Team Tigertown must win to continue its season but if they do, a meeting with the defending state champion Kimball Express awaits on Aug. 26 in New Prague.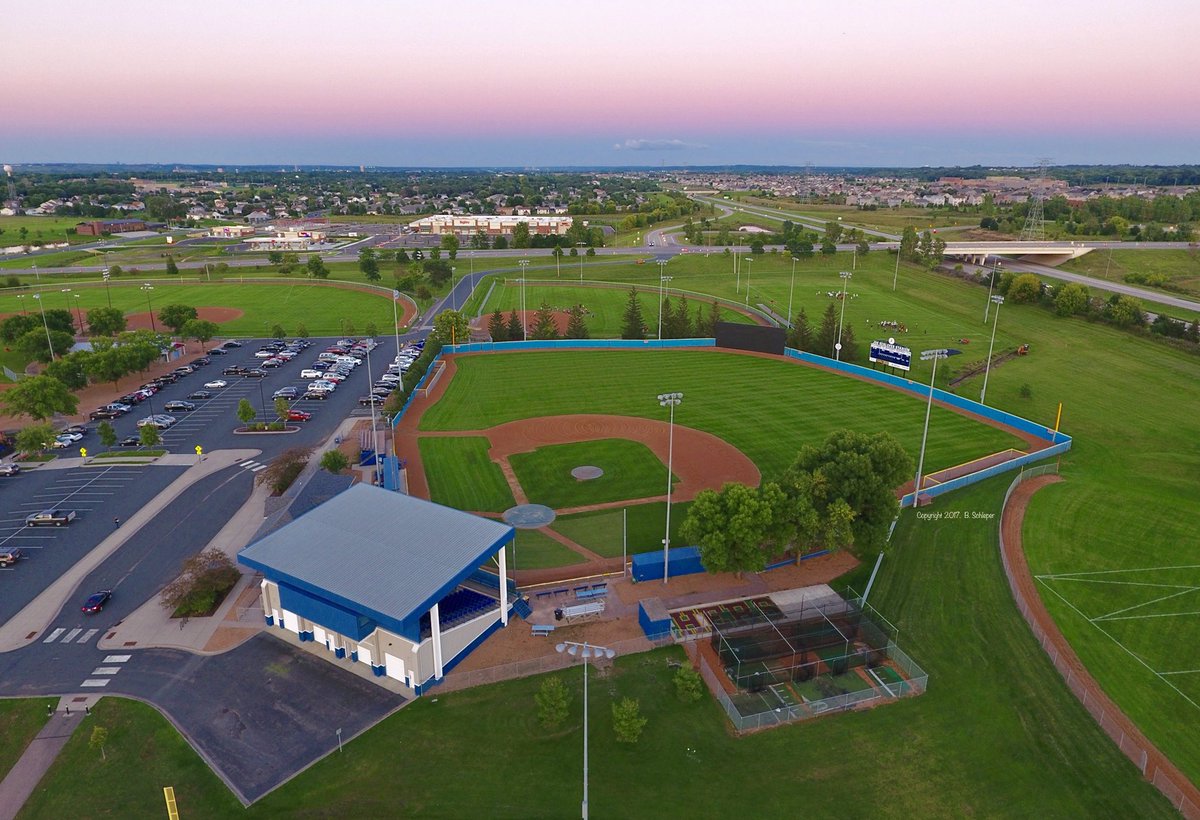 This year's state tournament is co-hosted by Shakopee and New Prague, with Jordan serving as the third site. While twitter.com/bptigertown is the only Twitter account anyone needs, you may also wish to follow @MinnBaseball and @NPShakJor2018 on Twitter. And as always,don't forget the mothership at bptigertown.com.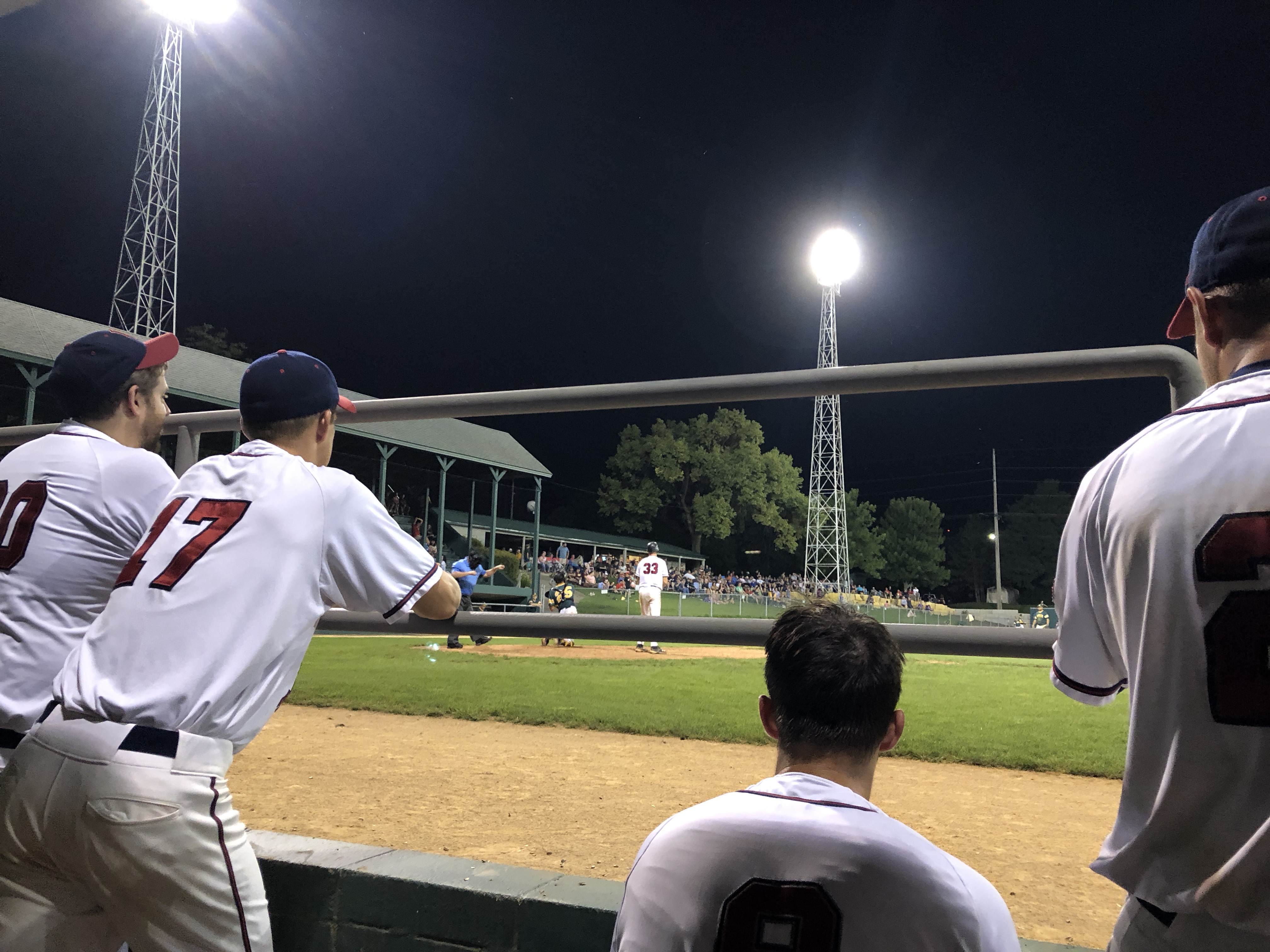 BP 0 @ Jordan 9 (Friday, August 10 – Region 6C) PHOTO ALBUM
As Lou Brown once famously growled about the Yankees in the movie Major League, "One of these days we'll figure out how to beat those guys." The fictional Cleveland Indians went on to do so by the end of their season but that is small consolation for the Tigers, as this is real life and Jordan still has our number.
The Tigers decided to "go for it" and rolled out right-hander Brody Curtiss against the Brewers, while Jordan expectedly countered with the man who one-hit the Tigers on July 20, Mitch Bockenstedt. Curtiss had a 1-2-3 first inning but came undone in the second due mostly to the deadly combination of two walks and two errors. The Brewers led 5-0 after two innings, raising their win probability exponentially.
A few more walks and a hit batter in the fifth inning meant the showers for Curtiss and on came Joe Pomije. He finished the ballgame but not before the Brew Crew tallied four more runs for the final margin of victory.
Belle Plaine collected five hits off Bockenstedt in seven innings but bottom line, still failed to touch home plate. Jared Miller was the only Tiger with multiple hits, collecting three of BP's six.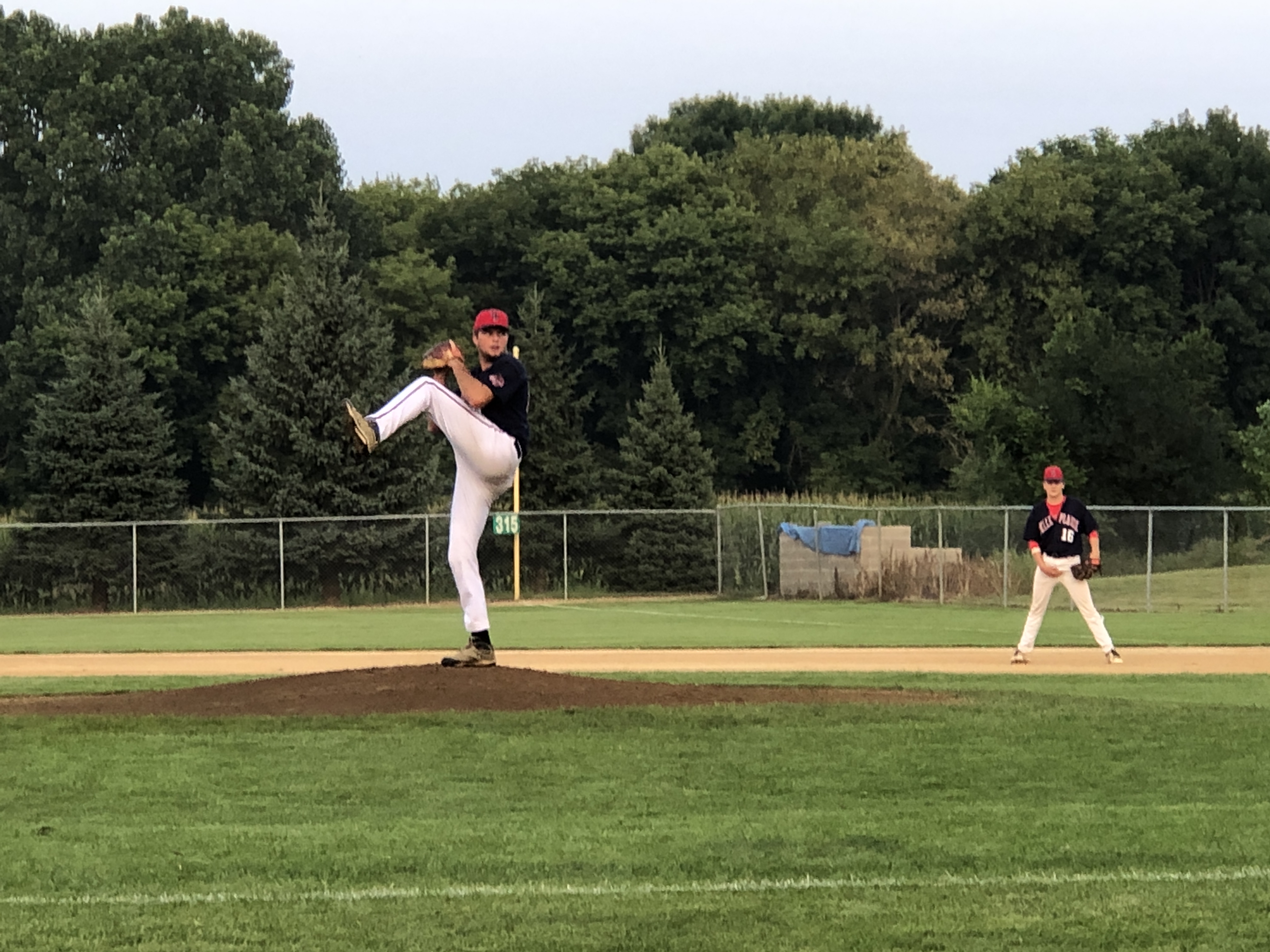 BP 3 vs. Le Sueur 2 at Waterville (Sat., August 11 – Region 6C) PHOTO ALBUM
Needing to win two games or call it a season, Manager Mike Schultz was in a bit of a pickle. Nathan Herman, 4-1 with a 2.14 ERA, was gone for the weekend and All-Star hurler Wes Sarsland was deemed better spent on a potential Sunday game. So the ball was handed to Mitchel Stier – an All-Star last season who has scuffled mightily this summer. It came up aces, however, as Stier found his old form.
Le Sueur's manager, Mike Feeney, found himself in a similar predicament as Mgr. Schultz and decided that after all, he was indeed the best option to toe the rubber for his squad. Feeney may only throw as hard as his age – upper-to-mid 40's – but the venerable one has foiled many-a frustrated batter in these, his golden years.
Stier didn't give up his first hit of the game until the fourth inning and used a line-drive double play to still see only the minimum number of batters through four frames. The Tiger Train finally broke through in the bottom of the inning on back-to-back, two-out RBI singles from Josh Terrio and Pat Schultz for a 2-0 lead.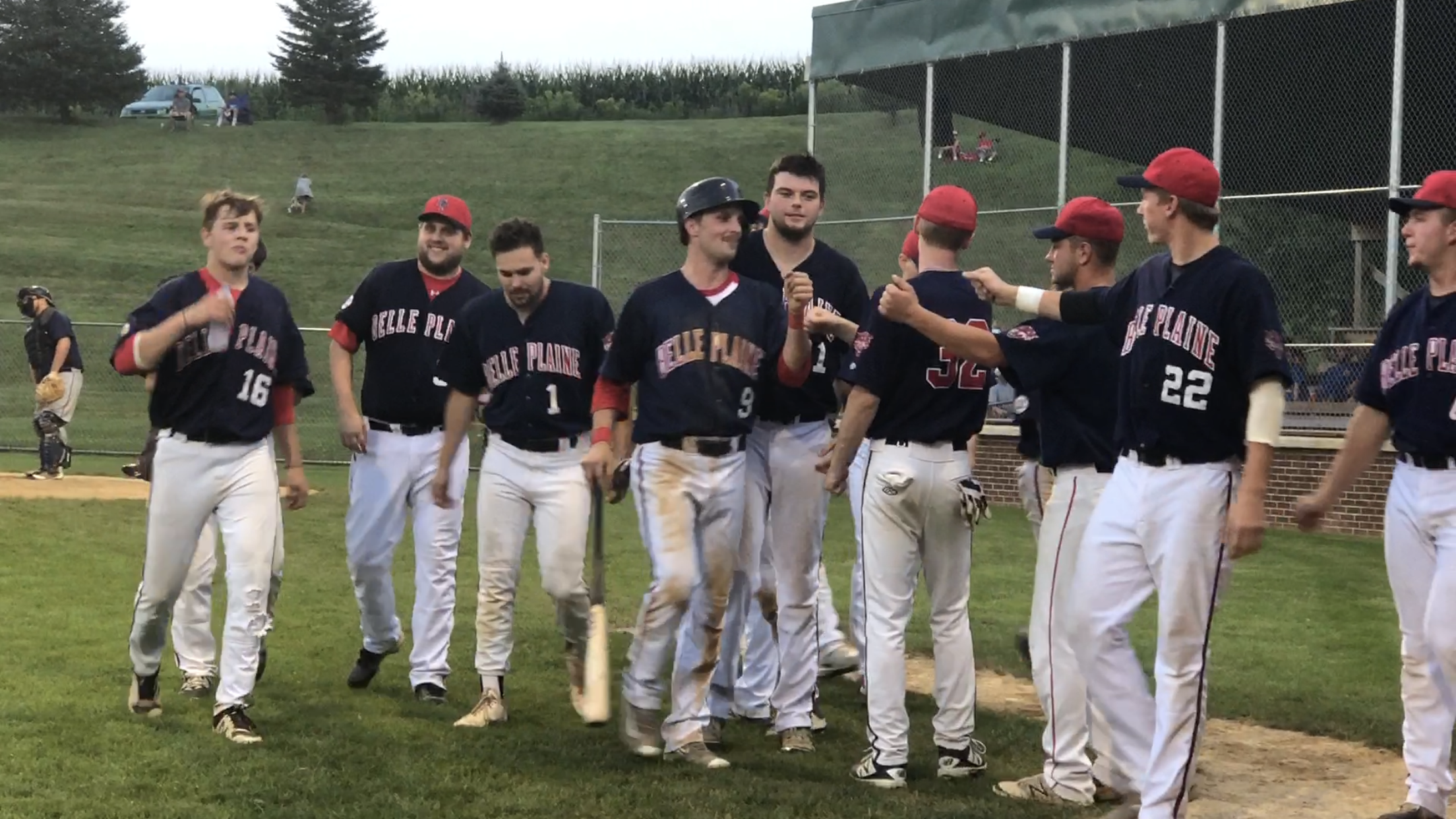 A fifth-inning error by the Tigers led to an unearned run and was an ominous sign of crumbling defense yet to come.
Pat Schultz led off the bottom of the 7th with a double, chasing Feeney. Pinch-runner Joe Hankins soon scampered home after a Carsen Ladd single and an error by Braves first baseman Ryan McPartland. The bases were left loaded, however, as reliever Tommy Gupton struck out the side. (This in sharp contrast to Feeney, who failed to strike out a batter.)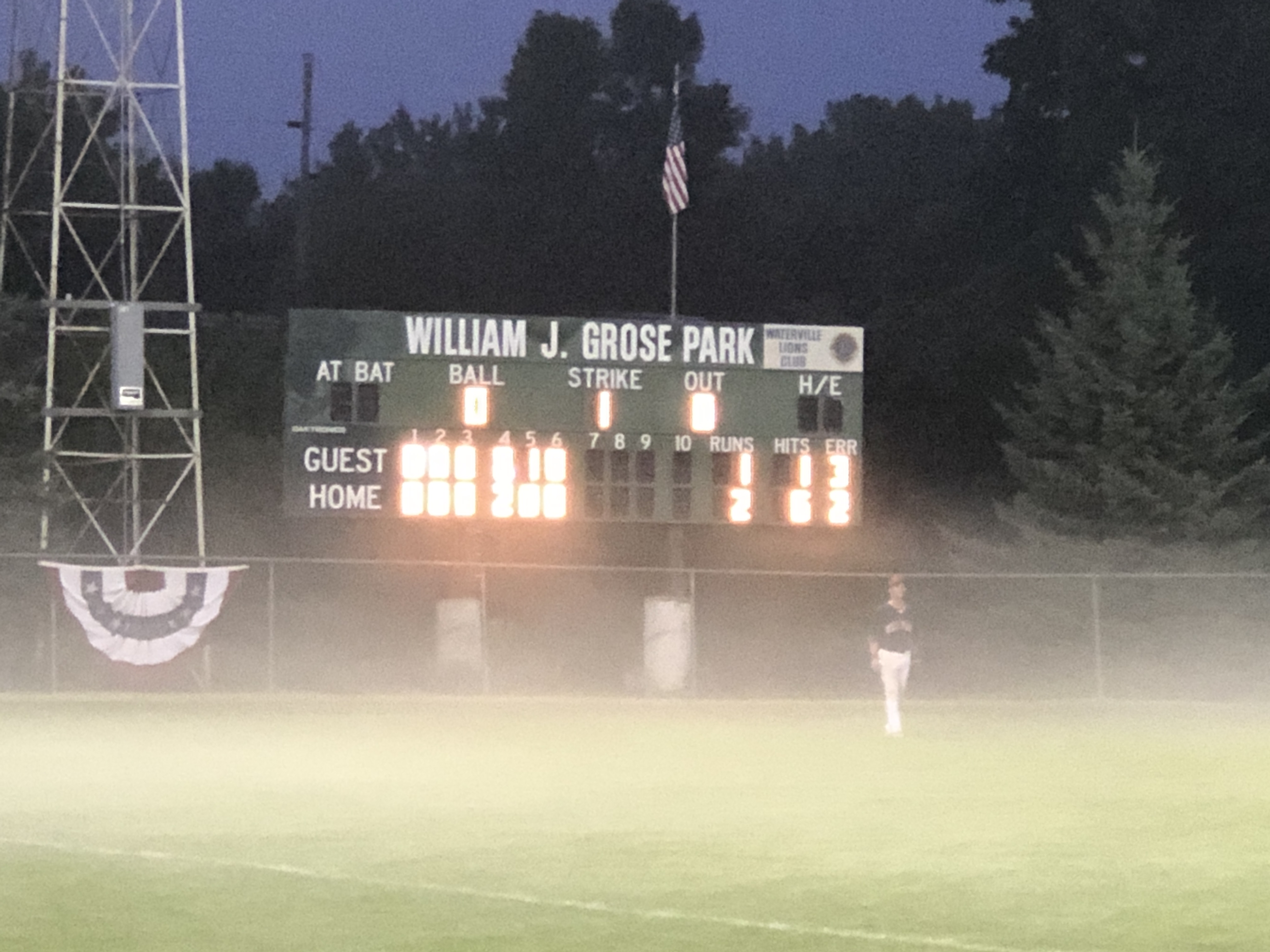 After the Bravos plated another unearned run against Stier in the eighth inning, Carsen Ladd again came up with the bases juiced and this time grounded into an inning-ended double play.
Le Sueur's leadoff man in the 9th, McPartland, reached on an error, putting Tiger fans and bench warmers alike on edge. After a sacrifice bunt and a fly ball, the tying run was at third base with two outs. Stier induced a harmless pop-out to third base, ending the game and finishing the two-hit gem.
The Chat-can't-fielders recorded nine hits, with two apiece for Terrio and Pat Schultz.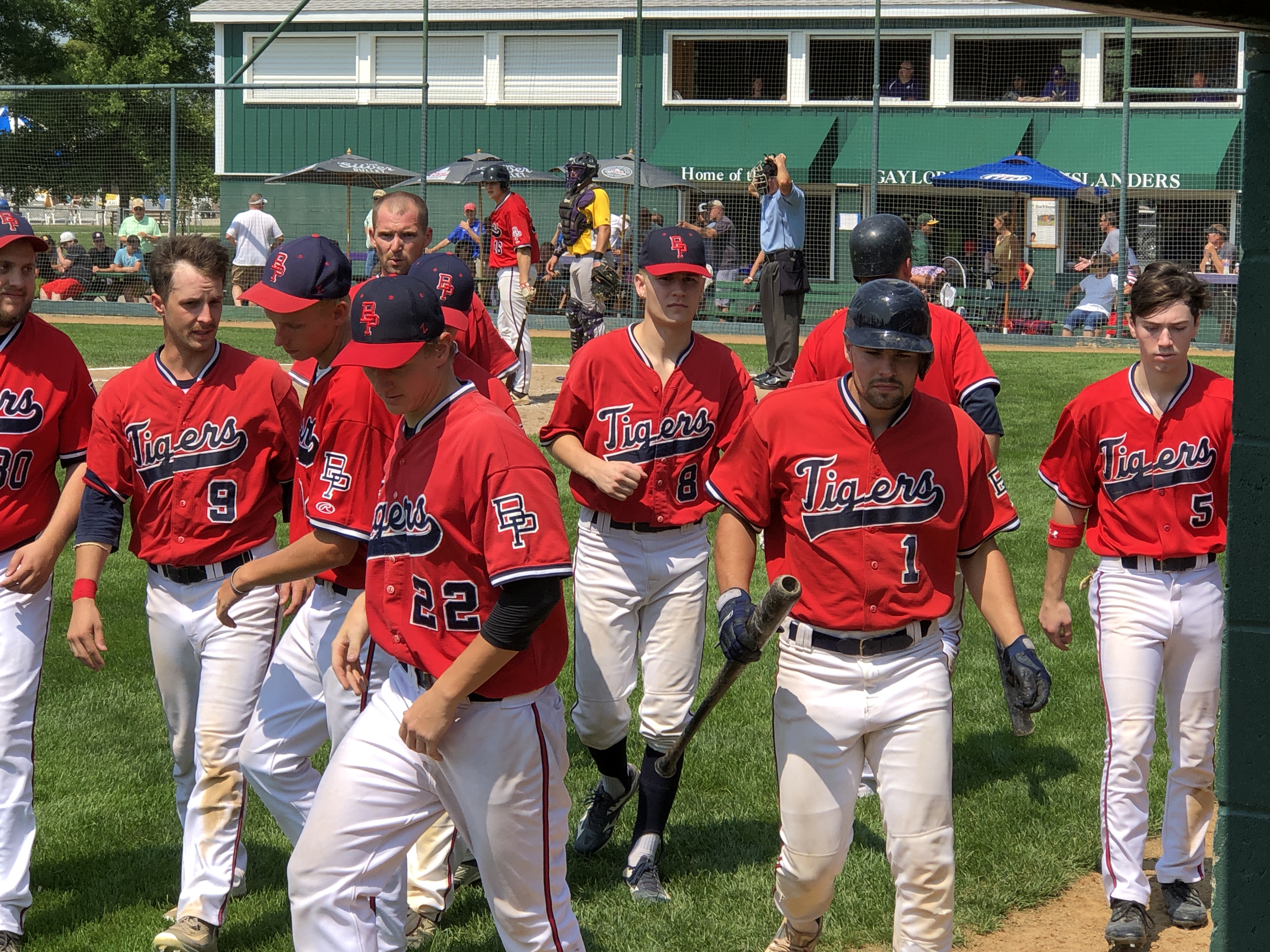 BP 7 @ Gaylord 4 (Sunday, August 12 – Region 6C) PHOTO ALBUM
It's difficult to explain how these things work but the Tigers were as loose as a goose for Sunday's state-tourney-or-bust contest in Gaylord. Part of it may have been due to a noon start time and a short night of sleep the night before after coming back from Waterville, and part of it may have been related to Sarsland's presence on the hill. Whatever it was, it worked.
Gaylord countered with fellow lefty Ethan Maass, but the Red Caps blitzed him early with two runs in the first inning. Curtiss doubled to score Aiden Ladd and Matt Schultz followed with the 10,000th single of his career, knocking in Curtiss.
The Islanders' most-feared hitter is well known, and that's one-time Tiger draftee "Easy" Ed Reichenbach. "Easy" because it doesn't take a whole lot for the man who spent last summer playing independent ball in the Pecos League to get one out of the ballpark. Befitting our narrative, he led off the second inning with a home run to right-center field to cut the Tiger lead to 2-1.
Belle Plaine kept after Maass and sent him packing in the fourth inning one batter after Aiden Ladd's bases-loaded triple. The Tigers led 6-1 and after Gaylord responded with a run in the home half, added another tally in the 5th for a comfortable 7-2 lead.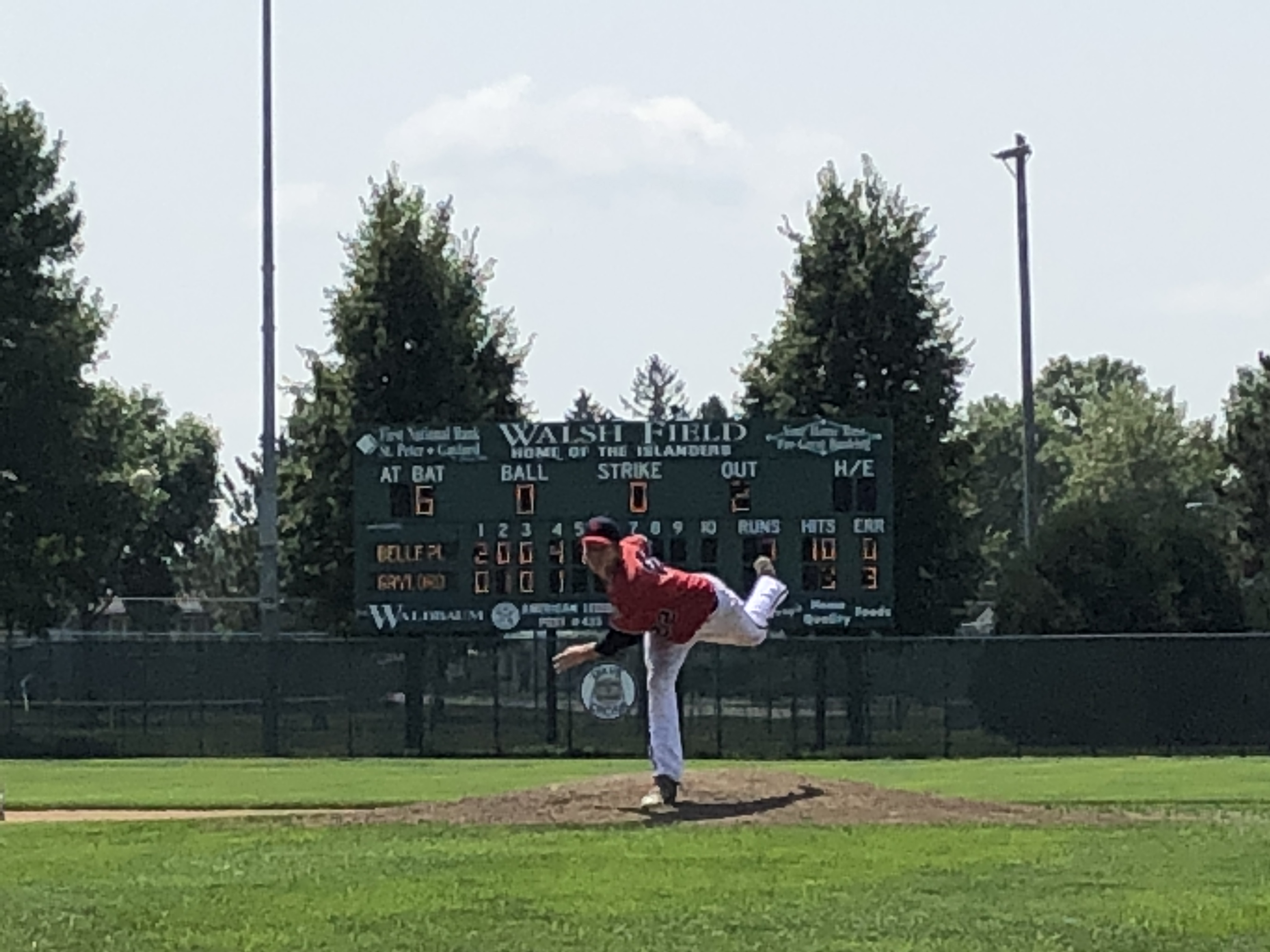 It was pretty smooth sailing from there – other than another Reichenbach homer in the 8th inning, this time a two-run shot, trimming the lead to 7-4. That was the game's last run, as Sarsland – despite striking out just one batter – tossed the Tigers' second consecutive complete game.
Only a dip in a swimming pool could've cooled off some of the Tigers' hot hitters, and Aiden Ladd led the way by going 2-for-5 with a triple and three RBI. Matt Schultz went 2-for-4 with two RBI and his brother Pat went 1-for-3 with two walks and two runs scored. Carsen Ladd joined the brothers-fest, going 2-for-4.