MIKE SCHULTZ NAMED TIGERS' TOP DEPUTY
1/9/13 - Belle Plaine, Minn. - Already a 10-year veteran of the Tiger dugout, 27-year old Mike Schultz was appointed Belle Plaine's field manager Wednesday night (Jan. 9, 2013) by the Belle Plaine Baseball Assocation. He replaces the legendary Jeff "Dog" Miller, who managed most of the previous four seasons. Mike's brothers Pat (a 15-year player) and Matt (seven years) will finally have to listen to him, as his word goes -- or I'm telling Mom! -- who's conveniently located in the concession stand. Or Dad! --same place. Mike is a deputy policeman for Scott County, and he is willing to take the necessary steps to bring law-and-order to the Tiger dugout. (Uh, not that there hasn't been.) If nothing else, people should pay more attention during kangaroo court.
Johnny Goes Marching Home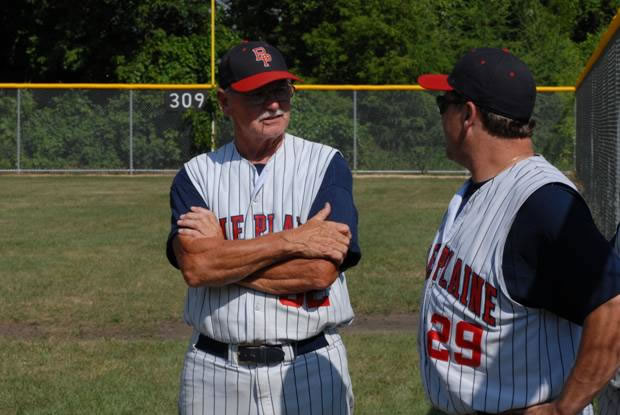 (Out with the Old - In With the Old)
Johnny Miller Steps Down as Manager - Son Jeff Steps Up
Fall 2008 - Belle Plaine, Minn. - by Nick Kornder --The Captain of the USS TigerTown will be changing again. The fifth new manager since the 2004 season will be a familiar face and name. Johnny Miller stepped down as Tiger's Manger in late October after two years at the helm and two State Tournament appearances. Taking over will be long time Tiger Jeff "Hot Dog" Miller, the son of the former skip. Since Brett Kruschke stepped down as Skipper following the 2004 campaign, three different Mangers have steered the ship. Shane Hofmann in 2005; Dave Kreft in 2006; and Johnny Miller in 2007 and 2008. Hot Dog was a former Belle Plaine High School Coach back in the late nineties. Johnny Miller will remain as head greens keeper up at Tiger Park.
Thanks Johnny for two great years of Tiger Baseball.
MILLER TABBED AS FIELD MANAGER
March 17, 2007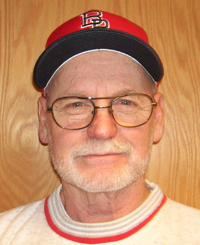 For the third time in as many years the Belle Plaine Town Team will have a new skipper, although there is nothing new about this manager. Johan Miller has been around since the time of the Big Bambino, in fact they were bunk mates at a Yankees summer camp, Miller a young rookie and the Sultan of Swat a crafty veteran. Miller learned a lot from the Babe that summer. Miller will bring a new found beech wood age feel to the team as his son "Hot Dog" Miller and Jeff Bruder will raise the average age of the team well over 30. Add in Brett Kruschke, Tim Huber, Trace Selly and Shane Hofmann you have yourself a team of veterans all that can recite lines from Alf. Look for big things from this year's squad!!
KREFT TABBED AS FIELD MANAGER
April 17, 2006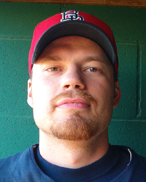 After one year under his belt in Tigertown, Dave Kreft has been named skipper for the 2006 season. Having already mastered the game between the lines (Kreft hit .194 last year), the only challenge remaining was to engage in the chess match that is managing the local nine. It won't be for a lack of bodies: the Tigers have no less than 25 eager sailors suiting up this year. Kreft succeeds Shane Hofmann, who led the Tigers to a plucky 15-20 record last year.
The new Tiger helmsman models himself a thinker, along the lines of Plato and Aristotle, only in pinstripes (and a goatee). Kreft is not the rah-rah sort; but then again, he only had 14 hits last year, so it is kind of hard to tell. Anyways, if you've liked what you've seen of Mr. Kreft as manager of the Belle Plaine high school Tigers, you'll really like what he brings to the table in Tigertown.
HOFMANN TABBED AS FIELD MANAGER
Feb. 21, 2005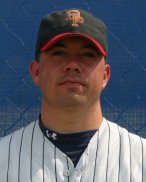 Shane Hofmann, self-proclaimed "ace of the staff," will now be "ace of the dugout" as well, as he has agreed to manage the Tigers in 2005. Hofmann is a familiar face, as this year will be his tenth in a Tiger uniform. Hofmann offered a "no comment" when offered to share his thoughts for this interview. However, he did release a bio that included mention of leading Borough Bowl to the 1987 Little League World Series. His hire follows a recent trend of dugout tacticians in Brent Meyer, Hot Dog Miller, and most recently, Brett Kruschke.
Kruschke stepped down after six years at the helm. The Tigers made one state tournament appearance during this span, in 2001, and had an overall record of 99-91 (.521). Season-ticket holder should rest easy – Kruschke is still going to try out for the team as left-handed bunt power off the bench
Kruschke Steps Down As Manager
Brett Kruschke
Belle Plaine Tiger Manager
Now in his 13th season, Brett Kruschke was hailed as a decent high school pitcher from the halls of BPHS but never materialized on the town team, where he began his career in 1991. Coincidence or not, the Tigers began a streak of state tournament appearances that year including the Class 'C' state championship in 1994. Brett took a year off in 1996 to intern with the Sioux Falls Canaries, and what do you know the Tigers missed the state tournament for the first time in five years.

In 1999, Brett continued a tradition of fine minds at the helm when by default he was named manager, and has remained up until, and probably through, today. Tigertown's warriors returned to the state tournament in 2001 where they lost a heartbreaker in 14 innings to Sauk Centre at Miesville. Brett has led the Tigers to the playoffs every year he's managed and most recently boasts a trip to the Final Four of the Tigertown Classic.

As a batter, Brett has had four different seasons without a hit. He has one homerun (yes, over the fence), at Waconia in 1999. He once stole 2nd, 3rd, and home in the same inning at Carver, giving himself the green light all three attempts. Brett's more famous as a pitcher for Rick Ankiel-type meltdowns, but has won a few games, including over Chaska in the 1997 playoffs.